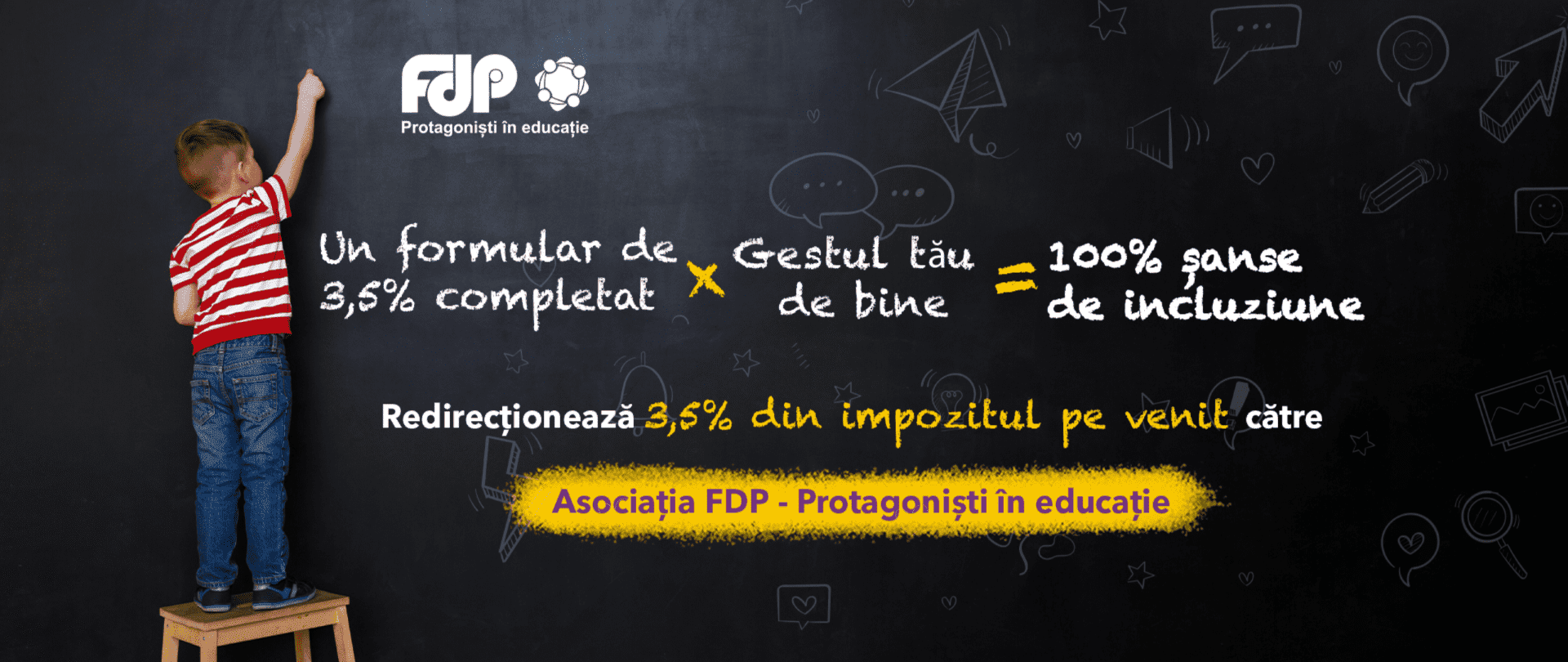 Redirects 3.5% of your income tax to FDP – Protagonists in education and help more than 400 children from disadvantaged backgrounds to have access to Education and Inclusion!
With a simple gesture, at no additional cost to you and with minimal effort, you can support children's education by redirecting 3.5% of your income tax from your salary/pension from the year 2022. An amount that is directed to the state anyway, but which you can choose to use for social purposes.
For over 26 years we have been offering children free access to a normal education, therapeutic support adapted to their needs and a way to build a better future. We believe that education can change their lives and, together with you, we continue to support them through the basic programs of the association: Social Sports School, WONDER Day Center and Impact in Ludești.
Together with you, we offer 3.5 times more opportunities for inclusion to disadvantaged children. Now it's very simple. You fill in the form online, quickly, and there is no need to submit it personally to ANAF.
Just 3 quick steps to follow:
Complete the 230 form online. It is not necessary to specify the amount (the tax institution will calculate it and transfer it according to the law) nor to attach the Tax Form. The FDP – Protagonists in education data is pre-populated. You can choose to redirect the tax for 1 year or 2 years;

Digitally sign the form and download the generated pdf;

Send it by email to our colleague at diana.marita@fdpsr.ro,  and we will take care of submitting it to ANAF.
Send us the completed form by May 22, 2023 at the latest to have time to send it to ANAF in due time. The submission deadline is May 25, 2023.
Based on Law no. 197/2012 regarding quality assurance in the field of social services, the FDP Association – Protagonisti in education is an accredited provider of social services (poziția 778). If you need help or additional information, do not hesitate to write to diana.marita@fdpsr.ro or call us at +40 (21) 255 22 58.
In 2023, we will invest all income tax redirection money in impactful projects for our beneficiaries.
Your involvement makes a difference! With only 9 completed forms we will offer, for 1 month, free therapeutic and educational support services for a vulnerable child. 100 completed forms mean this child's access to integrated and free services for 1 year. We involve more than 300 vulnerable children in educational activities every year. Children living in disadvantaged families, on the verge of poverty. Children experiencing social exclusion due to learning difficulties or special educational requirements.
Each completed form means 3.5 times more chance that these children will be socially integrated and have access to equal education.
Îți mulțumim că ești parte din misiunea asociației FDP – Protagoniști în Educație!